Winter Cup 2019/20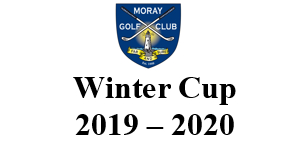 1. The Winter Cup is open to Mens, Ladies and Junior members. Handicap limits are 28 for Men and 36 for Ladies and Juniors. Ladies will receive 3 extra courtesy strokes on both courses. For scoring purposes the competition will be set up from the white tees.
2. There will be a £3 fee per person to join the winter cup. Thereafter the weekly charge will be £3 per entry. There will also be an optional £1 entry for magic 2's. Please circle any 2's on your scorecard. The format will be stableford points with full handicap allowance.
3. If 3 or more temporary greens are in operation, then the competition will not go ahead on that day. The final decision will rest with the professional shop.
4. Weekly prizes will be awarded for the top 2 stableford points scores in 2 sections. There will be a separate competition on Saturday and Sunday. Players can choose to play on both days, with both scores now able to count towards their aggregate totals and weekly prizes.
5. Weekly Prizes will vary depending on the size of the field each day and will be paid out as golf shop credit in 2 handicap sections. Handicap sections will be scratch-10 and 11-36. Weekly Prize values or number of divisions may reduce dependant on number of entries. Best six scores (3 x Old & 3 x New) will count towards the overall order of merit and the winner will have the highest aggregate. In the event of a tie the better seventh score (Old Course) will be awarded the higher placing.
6. There will be a Winter Cup Final Event on Saturday 14th March. This will be open to all players who have joined the Winter League and will run as an Individual Stableford event on the Old Course. Scores made in this event will also count towards the overall aggregate scores.
7. The final weekend for the overall aggregate event will be Sat 14th & Sun 15th March.
8. Weekly results and any handicap reductions will be posted on the clubhouse noticeboard, in the Pro Shop and in the Pro Shop weekly newsletter. Any handicap reductions are for winter only and handicaps will revert back for the start of next season. Handicaps must be shown on cards and it is the players responsibility to know their Winter handicap.
9. Handicaps will be reduced in accordance with the usual handicap system.
10. Balls must be played from fairway mats when between red lines. There is NO option to take the ball to the side.
11. If your ball is out with the red lines then the ball must be played as it lies.
12. Please sign in at the Pro Shop. On completion of round please enter your score into the club systems computer terminal and then post all scorecards into the competition box. Missing scorecards will be counted as No Returns. Please also ensure that your scorecards are signed. Failure to do so will result in disqualification.
Winter Cup Fixtures 2019/20
Week 1 November 2nd/3rd New
Week 2 November 9th/10th New
Week 3 November 16th/17th New
Week 4 November 23rd/24th New
Week 5 November 30th/1st Old
Week 6 December 7th/8th Old
Week 7 December 14th/15th Old
Week 8 December 21st/22nd Old
Week 9 December 28th/29th New
Week 10 January 4th/5th Old
Week 11 January 11th/12th New
Week 12 January 18th /19th Old
Week 13 January 25th/26th New
Week 14 February 1st/2nd Old
Week 15 February 8th/9th Old
Week 16 February 15th/16th New
Week 17 February 22nd/23rd New
Week 18 February 29th/1st Old
Week 19 March 7th/8th New
Week 20 March 14th/15th
Winter Cup Final 14th Old
Ask questions please click here to contact me.